Any discussion of guitar songs needs to include a discussion of guitarists as well. We can't have great guitar songs without great guitar players to go along with them. Musicians and music lovers alike can shoot the breeze for hours on end talking about their favorite guitar songs or discussing who they think are the greatest guitarists of all time. The thing is, any such discussion is entirely subjective, and in the end, quite impossible to agree on in any certainty.
My own list of 100 guitar songs would probably change, depending on the considerations on the table. Are we talking about "best" 100 or simply 100? Are we talking about 100 acoustic guitar songs or 100 rock guitar songs?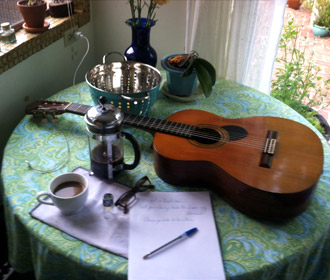 My list of 100 guitar songs includes some songs I feel can't be left off any such list. These songs will invariably fall into the rock genre because I feel the limits of the instrument are often tested by rock guitar players. Any number of songs by Jimi Hendrix would fit comfortably on a top 100 guitar songs list. Likewise, I would be shocked to find a list f guitar songs that didn't include a few Led Zeppelin songs.
Check out this VIDEO GUITAR LESSON ON CLASSIC METAL SONG
What about "Ridin' the Storm Out" by REO Speedwagon? Gary Richrath wasn't a technical master on the guitar, but he certainly had an ear for melody, and "Ridin' the Storm Out" is the sort of classic song that exemplifies guitar rock.
Metal guitar players like Jake E. Lee, Zakk Wylde, and Randy Rhoads have all played on Ozzy Osbourne songs that certainly fall into the category of great guitar songs. Think "Shot in the Dark," "No More Tears," and maybe one of the ultimate guitar song, "Crazy Train." With the exception of Randy, who was taken much too early in life, these guys went on to continue playing great guitar songs.
Think about Keith Richards and Pete Townsend. These guys didn't play a lot of flashy solos, but they played with heart and soul and perfect timing, making several songs by the Rolling Stones are the Who great guitar songs. My list of 100 guitar songs would definitely include songs like "Start Me Up" and "Won't Get Fooled Again" simply because they make me want to pick up my own guitar and play, as Pete wrote in the song "Won't Get Fooled Again." What about "Freebird" by Lynyrd Skynyrd? That's a classic guitar song without question. More recent contenders like Gun 'n' Roses' "Sweet Child O Mine" vie for a spot on the list too.
Ted Nugent's "Cat Scratch Fever" is probably one of the most popular guitar riffs of all time, in Ted's mind for sure, and in the minds of many guitar players who grew up playing it. It could be argued that many more Nugent songs would go on that list as well.
I'd also save a place for Chuck Berry's "Johnny B. Goode."
If you're including jazz guitar songs on that list, you can't forget songs by Django Reinhardt, Robben Ford, or Al Di Meola.
Some acoustic guitar songs I'd include on a list of 100 guitar songs include "Night Moves," "Take It Easy, "Maggie May,"
A good guitar song is not always defined by the pyrotechnics involved, but by the way the guitar serves the songs. I could list 100 songs now and do another 100 tomorrow. The list would be just that, a list.
To find your own list of 100 guitar songs, all you need to do is listen to some of the great players and great bands of the last 50 years.
If learning songs on guitar is your goal, I recommend you to check out these courses: