Many people want to play blues guitar because the blues is such a popular genre of music. It sounds great and it's emotional, and especially on the guitar, it's super fun to play. For anyone who's looking to get into playing the blues, there are a few things you'll need:
A guitar:
Obviously, you need a guitar in order to play guitar. For the blues, it actually works well on both an acoustic guitar or an electric one, so it really depends on your preference. An acoustic guitar will give you a twangy and more natural sound, while with an electric you can use some distortion and effects or really play around with the tones. However, for an electric, you'll also need an amplifier, so keep that in mind when you go to your local music shop to pick up some supplies.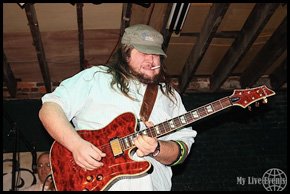 Knowledge of guitar basics:
Unfortunately, for any musician, you can't just jump right into playing specific things without first starting with the basics. If you want to play blues guitar, you'll need to work on playing chords, scales, and your flexibility. Without a foundation to build on, you won't get very far. For most people, they just want to play a single riff and don't want to spend time building their skills, but what they don't realize is that just because you can play one thing on the guitar doesn't mean you can actually play guitar and call yourself a musician. There's a lot more to the instrument than one riff or tune, so if you really want to play blues guitar, you need to spend time first learning the basics.
Check out this VIDEO GUITAR LESSON ON BLUES LICKS
Determination:
Determination is what will force you to hold yourself accountable to practice your instrument. Without practice, you'll never get better, and that's a fact. All the greatest blues players in the world started as beginners who never even held their instrument before, but with years and years of hard work and practice, they became what they are today. And the thing that allowed them to practice so hard was their determination to succeed and not simply give up.
If you're prone to giving up when things start getting hard, then playing blues guitar may not be for you, because it will take a lot of time and effort to pull off. But in the end, it's totally worth it, because the blues is one genre of music that's never going away.
If you are into blues guitar, I recommend you to check out this great course in DVD: