Lou Reed Walk On The Wild Side Chords Guitar Lesson is a great lesson for you to easily pickup a flat out all time classic on your guitar. One of our most popular instructors, Jimmy Dillon, breaks it all down so that it is easy to follow and understand.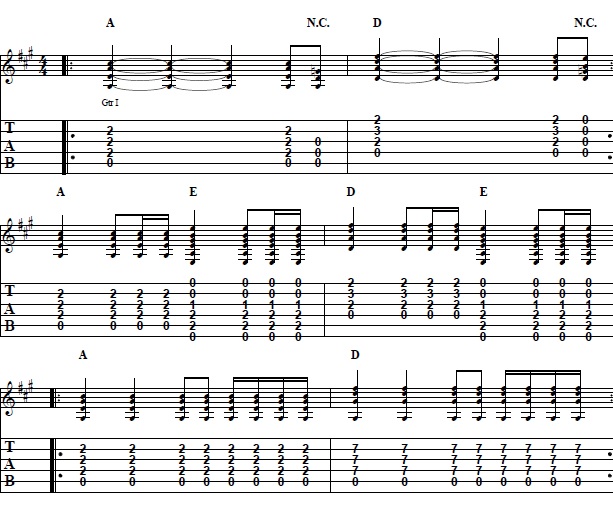 Introduction
Hey, this is Jimmy Dillon with Guitar Control, back with another acoustic lesson this is take a walk on "The Wild Side" by Lou Reed. I know we probably all heard the original version of this a classic 70s tune, but I just heard recently a version by Edie Brickell and the New Bohemians and it was more of an acoustic format and I thought I might want to share that with you because it's only got three chords. Lets take a look at Lou Reed Walk On The Wild Side Chords.
Lou Reed Walk On The Wild Side Chords
So starting off, Lou Reed Walk On The Wild Side Chords, it's a three chord in the key of A, in this case you just start with your regular A chord and then you go to a D. The thing is if you know this song at all, you know that the bass line it's kind of the key to that song, but since we're approaching an easy strumming and acoustic guitar stuff, let's see how can I make that work on an acoustic just playing it solo.
One of the ways to do it is to take your A chord, which I choose to play like this depending on what I'm doing, sometimes I play like this your standard A, it doesn't play like that, but in this case I think it works, just take your first finger and lay it over here because you can do this move by moving up to the 7th fret  and you really haven't done much, but you accomplished a lot because you've basically gone to your 4 chord, but in a different way, that's keeping with the rhythm of the song. so Lou Reed Walk On The Wild Side Chords. Okay so that's the verse sound to it and basically now what you could do is if you want to play during the verse just do your regular A and D, I would leave the open E just to get A that's like a regular D both an open E leave that E high E open and does a quick change A, E, D, now slide up.
If you want to, you can mute the strings, that's were the slides comes in. So I just wanted to comment one thing here, if you're a beginner and this all sounds like a lot to do, don't worry about it, just play just the A and then the D and you can leave the E open so that the high E-string rings out, that's enough and then when you go to your turn around key you're back to the beginning.
So if you're just a beginner and just getting going on guitar, that's okay, this will work, just run down a little bit, but I think with that strumming pattern you have the sort of jingle jangle of the open E-string, it really lends itself to an acoustic version of this song and that's mostly what I've been approaching lately. So you're interested in taking this further check out my courses online with lots of different in-depth versions of these kind of songs, which are really fun to do, so let's take a walk on "The Wild Side" by Lou Reed.