Hey guys! Gaby Soule here from GuitarControl.com, today we're going to talk about the guitar blues scale.
Learning and practicing scales is one of the most important things that any guitar player should do. But at the same time, it is necessary to separate this mechanic perspective of our instrument from the sound we want to achieve when we improvise or create melodies and chord progressions.
All the great riffs, licks or phrases that we like from our favorite players are based on some kind of scale. And most of the times, especially in rock, blues and metal, or even in jazz or country, this happens to be what we call the blues scale.
Check out this VIDEO GUITAR LESSON ON THE BLUES SCALE
The main structure of this scale is exactly the same as the pentatonic. The only difference is that we add a note that creates a special effect on the final result, this sound is called the blue note.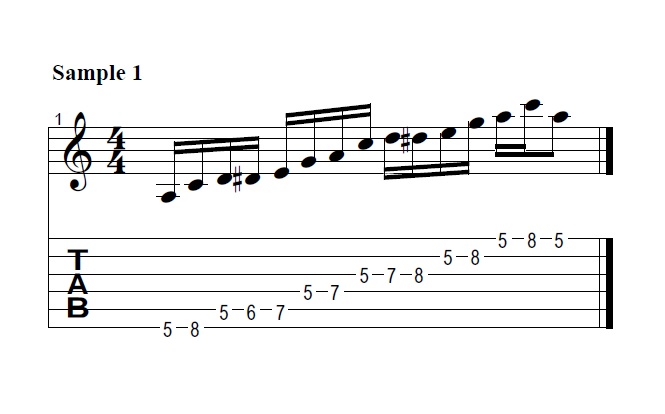 If you start counting from A, as the root of the scale, your reference is going to be the relative minor. That means that playing the pentatonic starting from and using A as the main note will have a more sad or melancholic sound:
A C D E G
This is a basic minor pentatonic scale, because the distance between the root, A, and its 3rd (minor 3rd), C, is made of a whole step and a half step.
On the other hand, if our reference or root is C, its relative major, the scale would be like this:
C D E G A
And the sound will become a little happier, so to speak.
This would be a major pentatonic, and the reason is that there are two whole steps between the root, C, to its 3rd (major 3rd), E.
The blue note comes from adding a minor 3rd (Eb) to a major pentatonic, which brings a more bluesy sound to it.
C D Eb E G A
At the same time, this note can be seen from the point of view of its relative minor, A, in which case Eb would represent a chromatic step from the 4th (D) to the 5th (E) degree of the scale, a note that will sound very familiar to anyone who loves the guitar.
Keep on playing! See you soon!
Gaby
P.S. If you are a blues fan, I recommend you to check out our: