Tablature is one of the best inventions for guitarists since the guitar went electric. It isn't, however, limited to just the guitar, and it isn't anything new. Tablature is a method of notating music for stringed instruments that's been in use since the Renaissance and Baroque eras (see the example below).
Today, however, tablature, frequently referred to as TAB, is used primarily in rock, pop, bluegrass, country, and blues. It's a godsend for those stringed instrument players who don't understand, or have no desire to learn, standard musical notation. It's also a more logical way of writing and reading music for stringed instruments, primarily because notes on stringed instruments can be played in more than one location and TAB tells you exactly where to play the notes.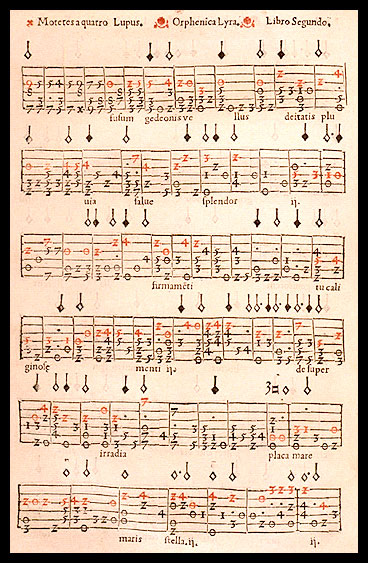 Guitar TABS for guitarists of all playing levels are available in books you can buy at music stores, or you can find guitar TABS for your favorite songs online, usually at no cost. You can also find bass guitar TABS for beginners or advanced players.
Guitar TABS aren't only used for song transcriptions. You can get guitar TABS for scales and for guitar technique exercises as well. The example below shows a bluegrass guitar exercise in both standard and TAB.

Check out this VIDEO GUITAR LESSON ON SCALE EXERCISES
The next example shows the Travis fingerpicking style in both standard notation and TAB. Notice in this tablature the note values (the stems) are indicated as well. This is something you'll see in more advanced TAB. When traditional note stems are used in tablature it's possible to play a song without knowing the rhythm and length of the notes played, whereas most TAB requires some familiarity with the song being played because there are no note values indicated.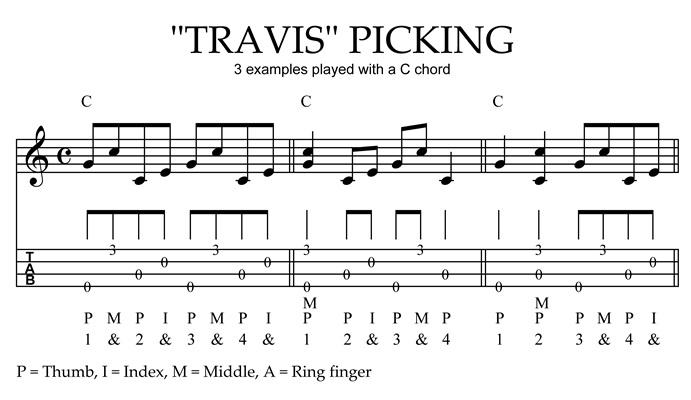 If you're just getting into guitar and don't want to invest the time it takes to learn traditional notation, guitar TABS for reading and writing is the way to go. It's music notation with us guitar players in mind.
If playing lead guitar is your goal, I recommend you to check out our:
BEST SELLING LEAD GUITAR COURSE
Also, you can check out some of our: