Hey all you Blues fans! CMC here, with all things Blue and I don't mean Dodger. (The team that pays a few miles down at the cross roads)
We're going to take a quick look at a few things to get us on the road to shredding some Blues licks that will blow your (and other peoples) minds. So, let us not delay, cause you jus' wanna' play!
First, a little history. I'm one of those sticklers for perfection, perfectionistas who thinks it's cool to have at least a shallow, superficial knowledge of what the heck is goin' onbeyod pure mechanics. And Blues mirrors that attitudeit's all about emotion, empathy and culture, expressed in sound.
It's cool to see some twelve year old playing like Lightning Hopkins but on the other hand, there is maybe-just maybe a little more to the Blues than just notes on paper or frets on a board.
I'm not saying you have to be a history major or broke, busted and disgusted. I'm not sayin' you gotta be African American or male or live in Chi-town. But what I AM saying is this: let's at least have enough r e s p e c t to get ourselves a basic understanding of how this whole thing came about.
After all, this IS BEGINNING Blues Guitar. I'm assuming none of us here have record deals and labels touting us as the next BB King, right? So, since we are all learning and starting out here, let's take a few seconds to learn a few words about time, place and culture.
Blues guitar is one of the most amazing art forms ever invented. No one can say for sure exactly where or how the Blues came into being. But we do know this:
That divine brew we call Blue, wouldn't have been possible without a few key ingredients:
1. America:
America was uniquely qualified and unlike any other nation in that it had a burgeoning urban/folk /funk cultural mix bubbling up along with the Great Depression.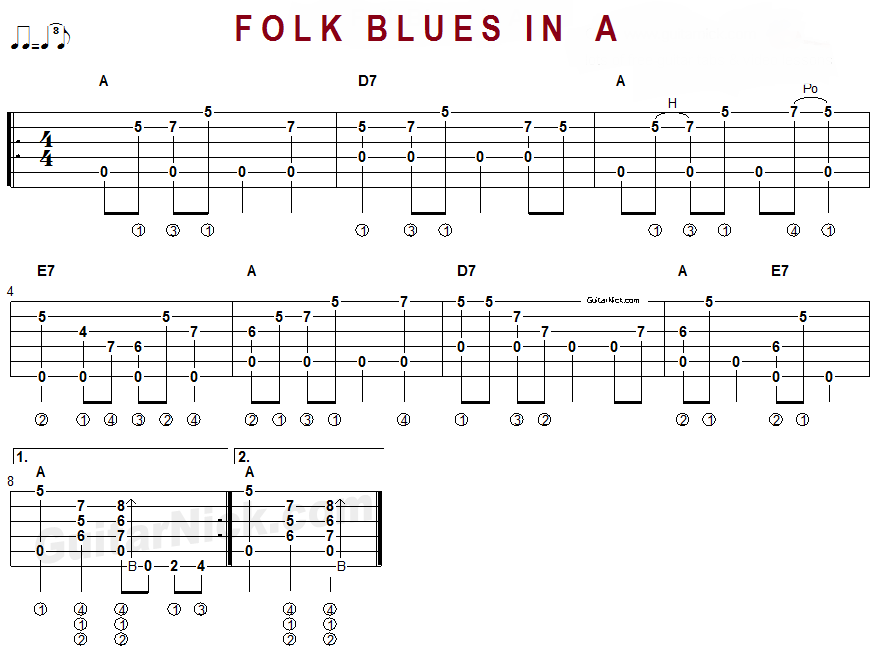 2. The invention of the Electric Guitar:
It's hard to imagine the sheer velocital lightning runs characteristic of the Blues, being born on an acoustic guitar. Born on the Bayou? – Heck yes. Born on acoustic? Although I'm sure some form of Blues was created on acoustic instruments, I doubt it really came into it's own until that free-form, liquefied funk was electrified!
3. Post-slavery Southern black culture:
This part is pure speculation from me but the combo of black gospel, Negro "spirituals," women, money trouble and a new found freedom in the big city all came together to brew that bodacious blast of guitar we know as "Blues." As African America men facedand dealt with problems they'd never known before, one way to deal with it became music. Today's rap and hip hop was yesterdays blues. Today's "attitude" was yesterdays lament.
Check out this VIDEO GUITAR LESSON ON BLUES
Heck. You know what? We're outta' time and we didn't even get to the tech stuff. Heck, we hardly even touched the surface of beginning Blues Guitar. No worries, we've got so many pros right here on Guitar Control. com-videos you can order, tapes, articles, I'm sure I'm not leaving anyone empty handed. And I'll be baaack. With more. So stay tuned!
If you are into blues guitar, I recommend you to check out this great course in DVD: