Due to the plurality of the Internet, I'm extremely picky and impatient when it comes to jazz guitar lessons online, especially video tutorials. If the first minute of any lesson consists of the guy talking about his methods or his preferences, or basically anything that doesn't explicitly reference the lesson at hand, I'm out of there.
For instance, here a while back I was on a Django Reinhardt trip, and I was watching and reading dozens of lessons. During this time, I came across a couple of videos that promised to be exactly what I was looking for – step by step examples and variations of those mind-melting arpeggios and screaming hot runs that made Django famous.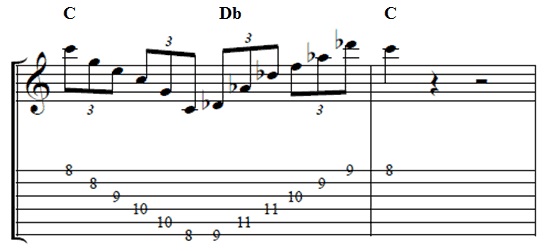 Something like this, which isn't a specific Django riff, but an Em7 arpeggio with a bit of chromatics over a Cmaj7, giving it a dominant 9 feel:

To be honest, I'm into Django's music, but it's not a major part of my playing repertoire. I don't have any amphetamine gypsy jazz aspirations. But it's cool if you can find a way to squeeze a Django-esque lick into another style of playing. Soloing in general is over-rated, but like tapping and every other technical aberration, I am compelled to be able to do it. That's just how I roll as a guitar player. I may not be giving a classical guitar recital anytime soon, but I can play some Barrios at the drop of his name.
Therefore, I really really really wanted to hear and if possible see someone play that Django stuff in real time. So I dialed up a series of video lessons. In each instance, the instructors talked about almost everything except arpeggios (which I am completely guilty of doing here, but at least owning my hypocrisy). Of course, they eventually got around to that. But I was long gone.
Here's what I want in a jazz guitar lesson online. First, if it's a video tutorial, I want the guy to appear on screen and say, "Hey, I'm Jasper, and I'm going to teach you how to play a couple of Joe Pass licks. Here we go. This first one is from 'How High the Moon' and takes place at 1:50 on the Virtuoso recording, and features a super sweet chord melody riff at the end of the phrase."
Check out this JAZZ GUITAR LESSON ON LICKS
And then Jasper plays the lick. Then he plays it again, this time a bit slower. Then he breaks it up into sections. Then he puts it all back together again. Not a lot of chit-chat in there, either.
If it's a Web lesson sans video, I want two things: What it is, and tablature. Like this:
Joe Pass lick from "How High the Moon":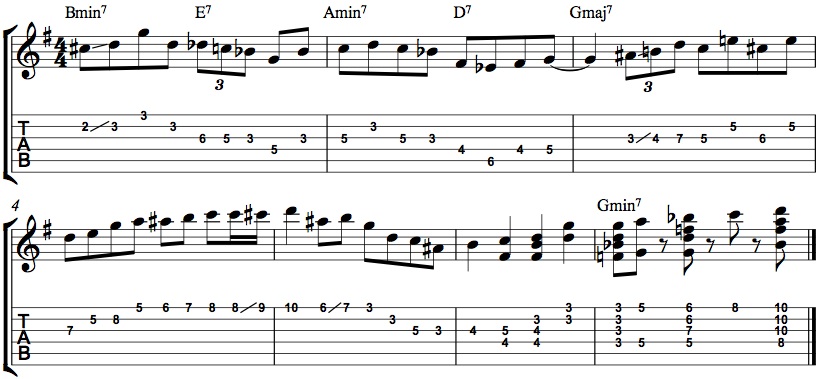 Another thing I don't like about jazz guitar lessons online is when the instructor references something that was taught in a previous lesson. The odds are incredibly good that I had not seen another lesson from this particular character. That's again, due to the plurality of jazz guitar lessons online. But it means I have to stop what I'm doing and find the lesson he's talking about, which obviously disrupts the learning process.
Now, on to your next jazz guitar lesson.
If you are into jazz guitar and music, I recommend you to check out this course in DVD: