Easy Guitar Riffs For Beginners are those killer musical motifs that most people recognize as soon as they hear them. A guitar riff is that beautiful musical figure that makes some us want to play the guitar. Most guitar players can remember the first riff we learned and what we had to go through to learn them. Remember sitting in your room with your guitar, trying again and again to capture your favorite riff and make it sound just like you heard it on the radio?
Guitar riffs vary in complexity. Some are difficult, some are simple. The skill level required to play a riff has nothing to do with the quality of the riff. In fact, some of the coolest riffs in music are the easiest to play. Here are ten easy guitar riffs for beginners I feel are some of those most classic riffs in rock.
• (I Can't Get No) Satisfaction – Rolling Stones
• Smoke on the Water – Deep Purple
• Iron Man – Black Sabbath
• Rock You Like a Hurricane – Scorpions
• Pretty Woman – Roy Orbison
• Back in Black – AC/DC
• Highway to Hell – AC/DC
• Purple Haze – Jimi Hendrix
• Come as You Are – Nirvana
• I love Rock N Roll – Joan Jett and the Blackhearts
It's no surprise that these easy guitar riffs for beginners are some of the most classic and recognizable riffs in rock. These are riffs that sound cool and can be played by most guitar players with little practice.
Guitar Riff Samples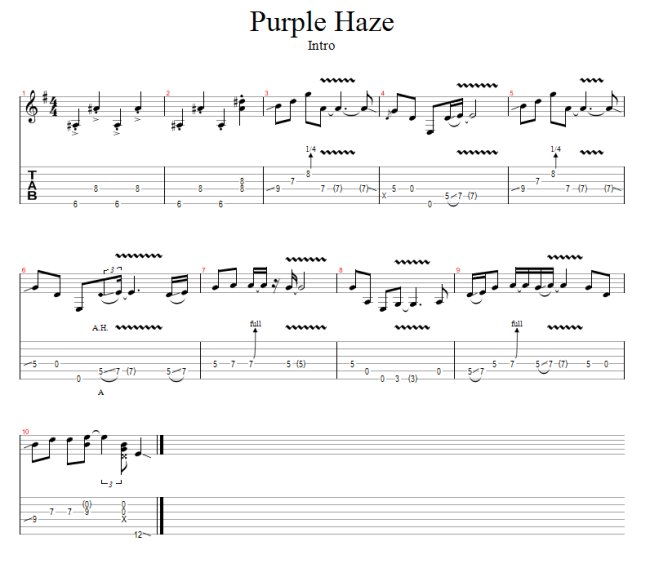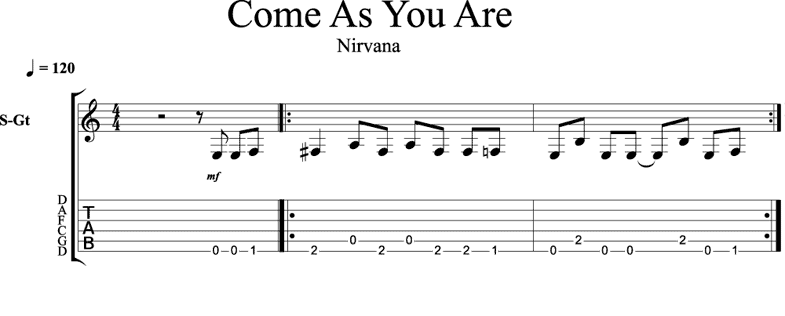 Check out the "Purple Haze" entry here. This is interesting because the song actually has a very easy riff that opens the song (alternating between single notes), then goes into the opening licks that are just as easy to play. Crank up the guitar, stop on the fuzz box, and let her rip.

The next example I want to illustrate is the Nirvana song "Come as You Are". It doesn't sound much cooler than this, and it certainly doesn't get easier.

If you want to impress your friends and be the hot at the next party, these are just a few easy guitar riffs for beginners. There are a lot of web sites that offer free guitar riff tabs you can learn pretty quickly. Pick a few of your favorites and do a little research Chances are good you'll find most of them transcribed and ready for you to learn. Remember, easy doesn't mean uninteresting. All of the riffs I've included here are simple and cool, which makes them not only easy guitar riffs for beginners, but essential learning for every beginning guitarist.
Easy Guitar Lesson on Easy Must Know Guitar Riffs For Beginners – Rhythm Guitar Lesson from Guitar Control instructor Darrin Goodman. These four Easy Must
Read More »
An easy guitar riff is a riff that is typically made up of just a few notes that create a very recognizable pattern. It can
Read More »
For beginner guitar players, it's nice to have a few riffs that you could practice and be able to play with relative ease. Below are
Read More »