It's understood among guitar players that playing classical songs is a great way to learn technique and improve playing skills. Whether it's a classical song written specifically for guitar or a concerto arranged for guitar, playing classical music can help expand your knowledge of music and improve our ability to play more complex stuff. The problem is, most classical music written or arranged for guitar is too complex for beginning guitar players to approach. Unfortunately, this complexity often deters beginners from taking advantage of the benefits of playing classical music.
The good news is that beginning guitarists don't need to feel left out. There are a lot of easy classical guitar songs available for you to take advantage of. A quick search on the Internet will yield a plethora of classical guitar arrangements of some famous classical works as well as songs written specifically for guitar. You can also find classical exercises and scales you can use to improve your playing. These songs and exercises are usually written in TAB and simplified to make them more approachable, allowing even a player with the most basic ability to dig in and experience the joys of classical guitar.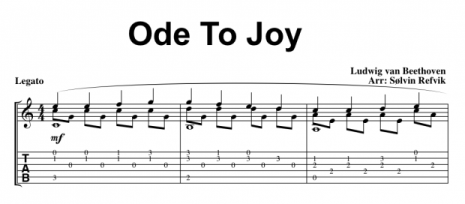 Check out this passage from "Ode to Joy" by Beethoven, arranged for guitar and notated in both traditional and tab. This is a simplified arrangement suited to finger-style, as is most of the classical music arrangements you'll find.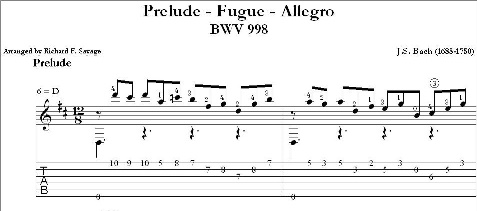 In the second example, a figure from Bach's "Prelude-Fugue-Allegro" has been arranged in simplified tab and standard notation. This is an example of a piece you can play as an exercise that utilizes your thumb and all of your fingers.
So many classical songs are so complex to begin with, so even a simplified classical song can be a challenge to play. That's what makes playing classical music on guitar an exceptional way to expand your skills and develop some extraordinary chops. Many guitarists have incorporated the style into their own sounds, including Yngwie Malmsteen, Jason Becker, and Tony MacAlpine. Playing easy classical songs on guitar is a long way from these players, but it's a great starting point.