Guitar tablature, normally referred to as guitar tab, is a cool way for string players to read and write music. It's most associated with guitar players. The system is simple. Six horizontal lines represent the six strings on the guitar and numbers placed on those lines indicate the fret number to be played. This is a logical way for guitar players to read and write music. It's also popular with players who have no desire to learn to read standard notation. So let's look closer at Guitar Tabs Beginner.
The Internet is loaded with great guitar tabs beginner guitarists can use to play some of their favorite songs or even as a way to learn to play scales, chords, riffs and other patterns. The majority of these web sites are absolutely free and offer more material than you can go through in a lifetime.
Check out this EASY GUITAR LESSON ON A FAMOUS SONG
Guitar tabs beginner guitar players can use typically includes stripped down versions of songs and simple exercises. Below is an example of an extremely simple version of "We Three Kings" in tab. This example illustrates just how simple tab can get. This is, of course, way too simple for anyone besides a very beginning player. The next example is a comparison between standard notation and tab using the melody to a childhood favorite, "Twinkle Twinkle Little Star."
Useful Guitar Tabs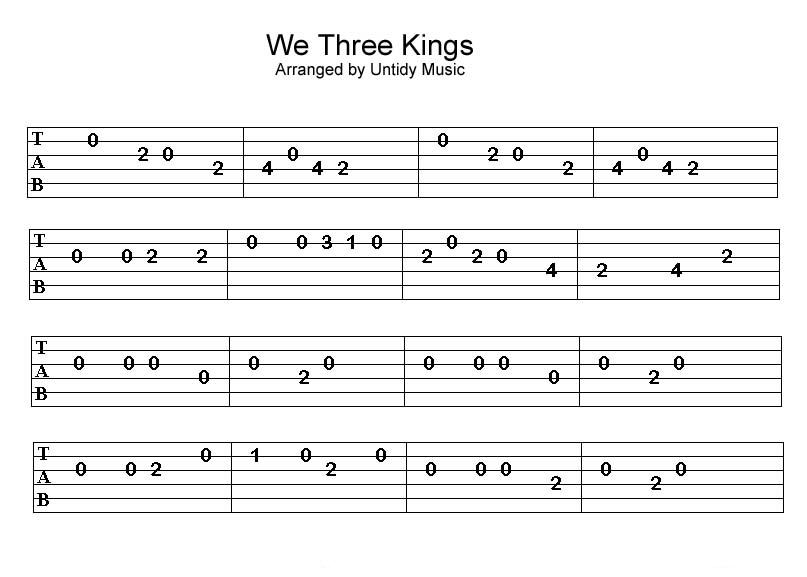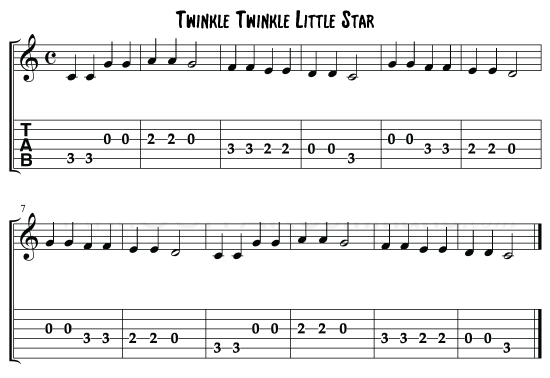 A more interesting example is the easy tab of the AC/DC song "Highway to Hell." This is the actual version played by Angus, but it isn't difficult to lay at all, even for a beginner. You'd be surprised how many of your favorite songs are not that difficult to play, even if you are just getting started. Many of AC/DCs songs can be played with just a little practice, even if you are just learning to play guitar.

An example of an exercise in tab that a beginning guitarist might use is the example of a C major scale below, show in tab and standard notation, ascending and descending.

Finding easy guitar tabs beginner guitarists can use is not hard at all. Guitar tab web sites, websites that sell guitar products, and even some video sites like Youtube offer a wide range of easy guitar tabs. These tabs are free to download and use for educational purposes. There's never been a better time to take advantage of the vast resources available to a guitar player who's just starting out. Learning has never been more fun.
If learning songs on guitar is your goal, I recommend you to check out these courses: