We've all had those guitar hero dreams of jamming on an electric guitar in front of a stadium full of people, but now it's time to stop the dreaming and make it a reality! Strap on your electric guitar and learn these beginner electric guitar songs today!
"Take It Or Leave It"
This cut from "The Strokes" 2001 debut album Is This It is a fast-paced, in your face, guitar-driven rock song. Hang up that air guitar and plug in your electric guitar. Playing "Take It Or Leave It" will help your chord changes get faster and smoother, and you'll look like a rock star doing it.
And the best part is that you probably already know all of the chords in this song. The verse chord progression is C, Bb, Dm and C. The chorus chord progression is A, Ab, Dm and C. If you're playing an electric guitar with a lot of distortion, you could always simplify these chords with their power chord equivalents.
"Seven Nation Army"
Though the bass line seems to be the driving force in this song, you may be surprised to learn that that actually isn't a bass line at all. The White Stripes don't have a bass player, and this melody that sounds like a bass line is actually just Jack White's guitar played through several effects pedals.
For this song, you want a chunky tone, so use power chords throughout. The chords leading up to the chorus are G5 and A5. The chords in the chorus are E5, G5, E5, D5, C5 and B5.
Get one of your friends to learn to the song, too (or play along with the record). Then, take turns improvising solos during Jack White's guitar break.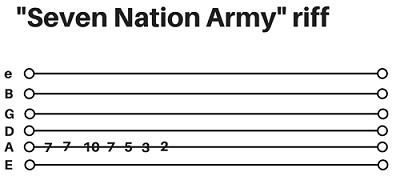 "Back In Black"
AC/DC's "Back In Black" is one of those great classic rock songs that actually isn't that hard to play. Angus Young's chunky chord progressions are mostly made up of power chords, and "Back In Black" is no different.
For most of the song, the chord progression is E, D A.
"Hella Good"
Did you forget how awesome the guitar part is in No Doubt's "Hella Good?" Take another listen. The little riff sounds like a bass line, but it can be easily played on the guitar as well. The funk chords in the verses may give you a little bit of trouble initially, but you'll get used to their strange chord shapes before long. Imagining standing beside Gwen singing lead on this song makes this song easier to play.
"Sunshine Of Your Love"
Like "Back In Black," Cream's "Sunshine Of Your Love" is one of those songs that even your dad can appreciate, but it's fairly easy to play. There aren't many Clapton songs that a beginner can just jump into, so make the most of this one!
Here's the deal for this song: you have to nail the riff. Make sure you work on the timing and your transitions from the lick to the chords. If you screw up the riff, you've lost your audience.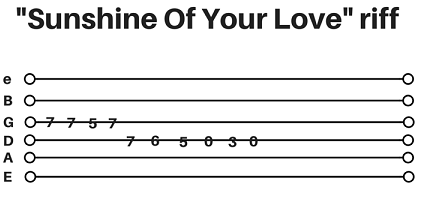 These songs are all relatively easy, but if it takes you a while to learn one, don't feel discouraged. Just don't make the mistake that a lot of beginners make (me included): don't just learn part of the song. When you start learning it, push yourself to finish it.
Now, if you want to learn tons of easy songs, I recommend you to check out our