Hello, fellow guitarists!
Joshua from guitarcontrol
here with some
free guitar tabs
for all of your playing needs! For those of us less musically inclined folk, sheet music can be difficult to read. That's why we have tablature or tabs for short. Tabs take the idea of sheet music and break it down to a level that is easily readable and accessible by all types of guitarists.
Free Guitar Tabs

As you can see, there are six lines for each string on the guitar, and numbers that tell you what fret to play on said string. But enough about how to read them (I'm sure most of you know if you're reading this article). I have compiled some great tabs for you guys, some easy, some hard, but all fun in practice!

Here we have
AC/DC's famous Back in Black.
This popular rock song has become a theme song for those who want to express a tone of intensity. As you've probably noticed, this is not an easy song to play. But with the right amount of commitment and hard work, even you could play this rock and roll masterpiece.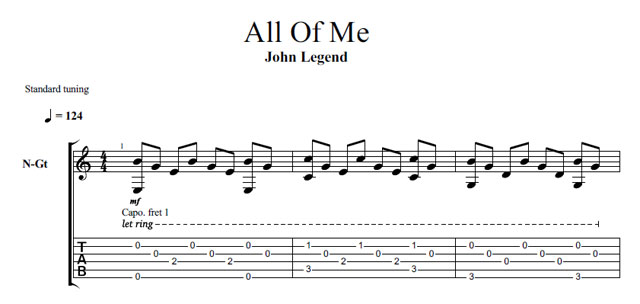 Next
, we have this intimate lament from John Legend. Not to be confused with the jazz hit by Billie Holiday
,
All of Me is a gentle song that is perfect for that one dance with that someone you love. Just imagine how many more points you'd score with your crush or significant other if you could play this from measure to measure? If none of these quite satisfy you, here´s some cool lessons that you may want to check out:
HOW TO PLAY LAYLA BY ERIC CLAPTON PT1
HOW TO PLAY LAYLA BY ERIC CLAPTON PT2
If you're still hungry for some more great tabs, look it up here on
guitarcontrol.com
! We have a vast wealth of guitar resources including lessons, articles, and chord charts. So look around and stay tuned for more on free guitar tabs and other things too. And also, I´d like to recommend you to check out our song collections:
GUITAR SONG COLLECTION
10 Guitar Lessons, Notes and Techniques To Play Better