Free is a word we all like to hear, especially when we've just spent the last of our money on a brand new guitar and need something to play. Fortunately for the aspiring (and broke) beginning guitar god, the Internet is full of websites run by helpful peers who've poured their blood, sweat, and tears into transcribing some of the most popular guitar songs in TAB for those of you just starting out. Even better, they aren't asking you for anything in return (money) for these Free Guitar Tabs For Beginners.
That's right, free. Nada. Nothing. All you have to do is browse through the selections, choose a song or two that fits your abilities, and crank up the amp (or maybe your just strumming an acoustic). All the work has been done for you as far as what notes to play for the main riff and solo, what chords go where, and in most cases, even the lyrics. I know, we're guitar players, we don't sing, but having the lyrics means somebody will.
Where do you find these free guitar TABS for beginners? Start in your favorite search engine and type in your favorite phrase regarding guitar TABS and beginners. The word "easy" works too. You'll be amazed at some of the gems that will pop up on your screen.
Free Guitar Tabs For Beginners
"Jailbreak" by Thin Lizzy has an easy fifth chord riff that pretty much supports the whole song. Give the song a listen and try it out with your guitar turned up. You'll sound like you know what you're doing even before you really do.




"Livin' After Midnight" by Judas Priest is easy to play. The examples here show not only the main guitar riff that goes throughout the song, but the bass TAB as well. Not only can you find free guitar TABS for beginners, you can find free bass TABS too, making it easy to pull together enough music for your band.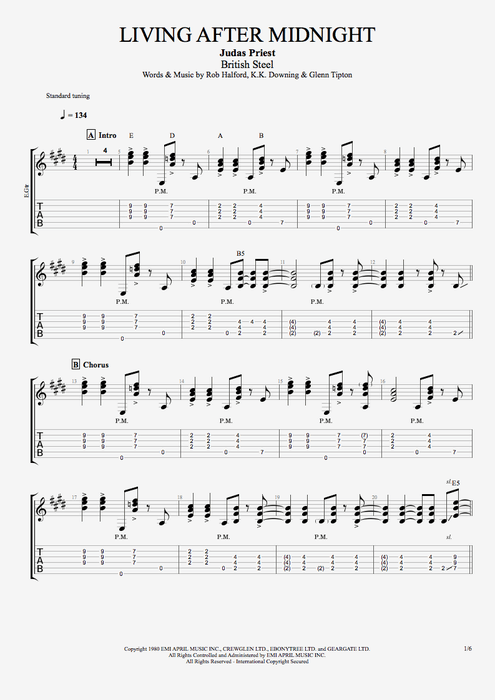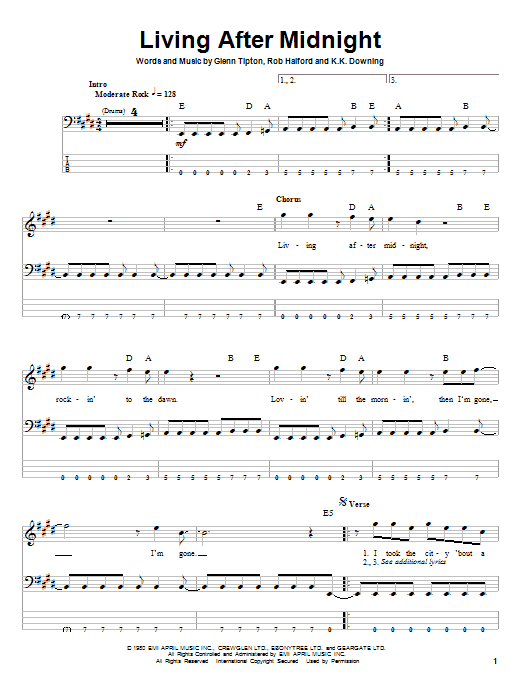 "House of the Rising Sun" is an easy guitar TAB that sounds good with a pick or played fingerstyle. It's a triplet pattern that sounds great once you've got the timing down and you can play it smoothly.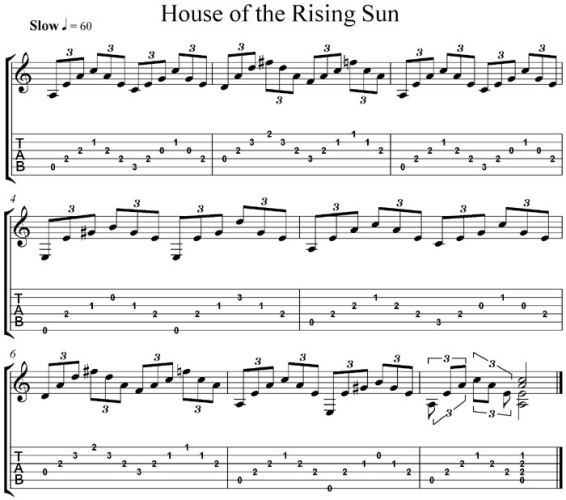 You don't have to stick with songs either. A lot of websites have free guitar TABS for beginners that lay out a variety of exercises to help you build your skills. With all the free TAB available for the beginning guitarist, you can learn to play songs and study advanced musical concepts without ever spending a dime.