It doesn't take years of practice to play the
guitar
. Yes, it takes years of practice to develop the skills necessary to be a really good guitar player and professional musician, but if all you want to do is strum a few songs for your own amusement or to impress your friends and family, there's hundreds of simple guitar songs you can play with just some basic understanding of how to strum and a limited chord repertoire. Below are the basic chords that will open the door to a catalogue of simple guitar songs.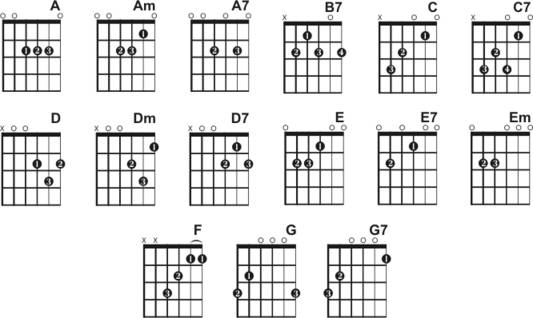 After you've mastered these basic open position
chords
, start working on barre chords (moveable chords based on open chord shapes). Barre chords are easy to play because you can change the name of the chord simply by moving the shape up and down the neck. The lowest note in the shape will normally be the name of the chord you're playing. Look at the examples below and you can see that barre chords are built on the open chords you already know, but re-arranged slightly so you use your first finger as a "barre," which acts as a capo of sorts. Barre chords are often used in rock music.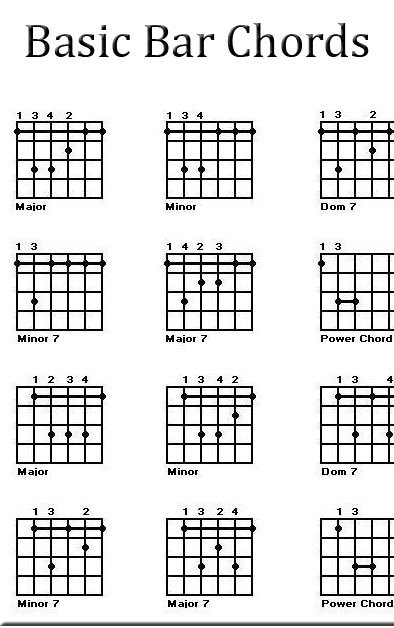 Printed music
for simple guitar songs is usually written as a
chord/lyric
sheet, meaning all you have is the words to the song and chord names or symbols written above the lyrics where they appear. All you need to know to play the song is how the song itself sounds and how to play the chords indicated on the chord/lyric sheet. Simple arrangements for these songs rarely include riffs or solos, and if they do, they're usually written in tablature and simplified for beginners. It doesn't matter if you have an
electric guitar or an acoustic guitar.
Any simple song can be played on either instrument. Some songs sound better on one or the other, but I've heard
AC/DC's "Shook Me all Night Long"
played on an acoustic guitar and it sounded great. Angus Young typically uses open chords, making it easy to play many of
AC/DC's
songs acoustically. In fact, a l ot of songwriters believe if it doesn't sound good on an acoustic guitar it isn't a good song to begin with. Check out the basic chords in AC/DC's "Highway To Hell" and see how easy it is to play once you've got the rhythm pattern under your belt.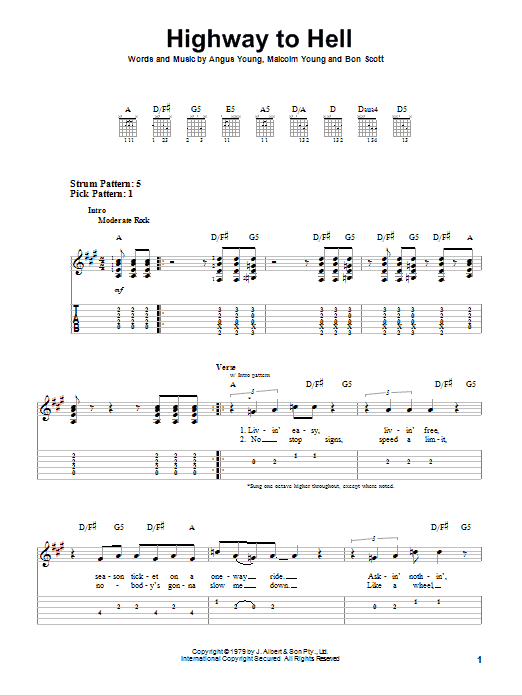 Here are some of my favorite simple guitar songs:
"Every Rose Has Its Thorn"
by
Poison
uses basic chords, sounds great on
acoustic or electric guitar
, and needs only a simple strum pattern to make it feel good. You can change this one up to give it your own touch by playing it slower or faster, or even giving it more of a country flair. Bob Dylan's
"Knockin' on Heaven's Door"
or Eric Clapton's
"Wonderful Tonight"
are very easy to play. They use the same basic chords. Play these two songs back to back and listen to how songs using the same chords can sound so different just by the way you approach them rhythmically.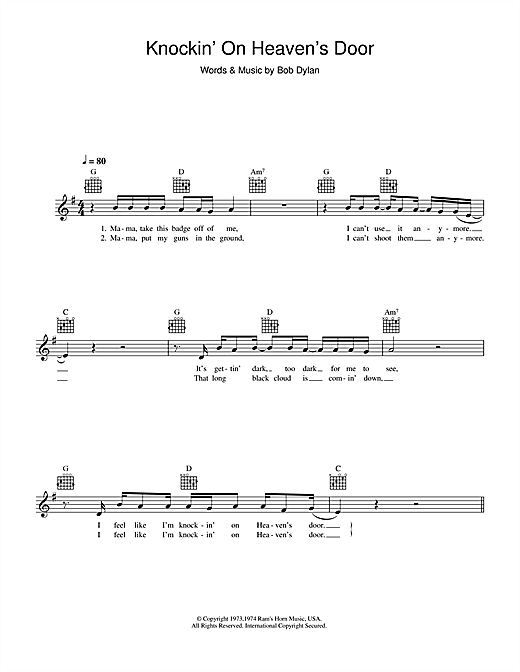 Other simple guitar songs include
"Night Moves"
(Bob Seger),
"Freebird
" (Lynyrd Skynyrd),
"Always on My Mind"
(Willie Nelson), and
"Already Gone"
(Eagles). These songs are, of course, just the tip of the iceberg. Other songs by these same performers are just as easy to play, plus there are a tons of songs by the classic bands in rock just as easy for beginners. Holiday songs like
"Silent Night"
and
"We Wish You a Merry Christmas"
almost always use basic chords or have been arranged for simple guitar somewhere on the Internet or in a lesson book. Do a quick search and you'll find a good guitar site that offers all the simple guitar songs you'll ever need. Play hundreds of smash hit songs with easy chord charts and step by step instructions.
The Ultimate Guitar Song Collection