A guitar lick is a musical phrase which can stand alone or acts as one element of a solo. Some guitarists are recognized by the licks they play. Chuck Berry and his double stop bends come to mind. IN fact, one of my favorite licks can be found in the opening phrase to "Johnny B. Goode," show in the examples below. Who doesn't recognize this one?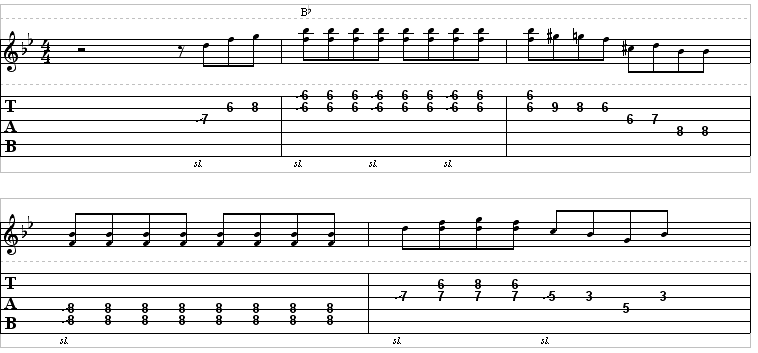 You can hear cool guitar licks in most of the classic rock songs, country songs, and in lots of blues standards. Some of the best guitar licks are actually very easy to play and are a perfect way to get beginning guitar players into learning. I know guitar teachers who incorporate cool guitar licks into their curriculum as a way of keeping the interest of their students longer.
Cool guitar licks are more than just a series of notes. Specific articulation applied to the series of notes can greatly affect the way a guitar lick sounds. The example below shows two standard, well-used blues licks with articulation markings for bending and trilling. These two elements, in conjunction with note choice, make this a recognizable blues lick.




Not only is it fun to play guitar licks, playing the classic licks is a great way to understand the structure of guitar solos and what makes a solo work. It's also a great way to understand the signatures that make certain guitar players recognizable. Playing guitar licks can also improve your guitar playing by leaps and bounds, opening you up to techniques you might not consider in your own playing.
There are a lot of ways to learn cool guitar licks. You can listen to your favorite songs and try to mimic what you hear. This is a good way to train your ear. You can also check out Youtube and find videos that focus on nothing but guitar licks. These video lessons teach you how to play famous licks and how to write your own solos using some classic guitar licks. Tab sites offer classic guitar licks in tab form as well. Visit some of these websites and check out a few of your favorite licks.
Check out AC/DC's "Back in Black" below. Look at the short lick between the chord riff. This is one of the most recognizable licks in rock and very easy to play. Give it a try.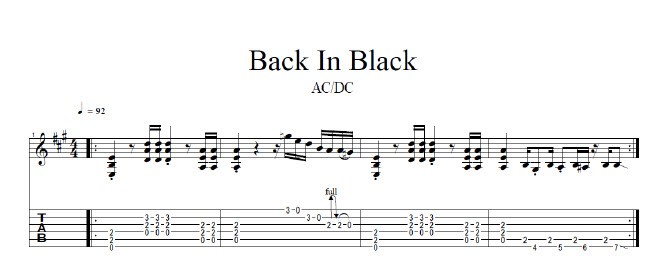 Licks like the one above can be found on guitar tab websites. Find a few of your own and build a library of cool guitar licks you can incorporate into your own songwriting and guitar playing. The more you play, the more you will begin to lean toward certain techniques that can color your playing and make it more identifiable to listeners.