Pop songs, ballads, country, classical, folk, and old standards are all song genres that have Acoustic Guitar Songs. In recent years unplugged shows have become popular, where classic rock and metal bands present songs originally written for electric guitar on acoustic.
What constitutes a good acoustic guitar song? This is a question that's hard to answer because the acoustic guitar is such a versatile instrument, capable of being used in so many different ways. Some good songs that translate well on acoustic guitar include songs by the Eagles, Bob Seger, Jackson Browne, America, and just about anything by Lynyrd Skynyrd.
Almost any country song translates well on electric guitar, whether it was written for electric or not. Even songs not typically played on acoustic guitar can be arranged for acoustic style playing, as shown in the example of the Bangles song below, arranged in a finger-style pattern.
Acoustic Guitar Songs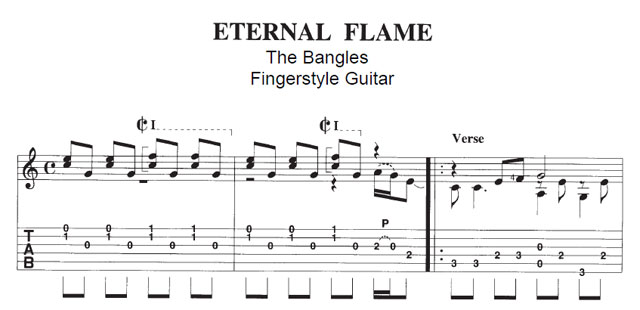 You can find arrangements for acoustic guitar songs on the Internet in either TAB format or simply laid out in chord/lyric sheets like the "Hotel California" shown in the first example. Compare that to the second example, which is a more complex arrangement of the same song. The second example gives you the actual notes and rhythmic pattern you should play to replicate the actual recording, where the first example requires a basic knowledge of how the song goes.
If you need more step by step assistance in playing these songs, please check out our complete detailed guide for help understanding how to play songs on guitar. It'll get you the skills you need fast.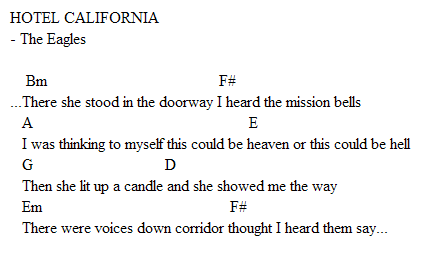 Many beginners start off with the acoustic guitar and approach learning to play it by focusing on chords. This is actually an excellent approach, especially if you just want to learn to play for yourself or friends. Learning just a few basic open chords in the first position is enough to allow you to play hundreds of popular songs.
Acoustic guitar songs can be found in all skill levels, but if you know the chords to a song and have an understanding of basic guitar techniques, almost any song will sound good on acoustic guitar. Songs by the hard rock group AC/DC translate very well on acoustic guitar. Take a look at the chords to "Shook Me all Night Long" and "Highway To Hell." Finger these chords and strum them and you'll see that Angus uses full chords (more in the style of acoustic playing than typical electric power chords).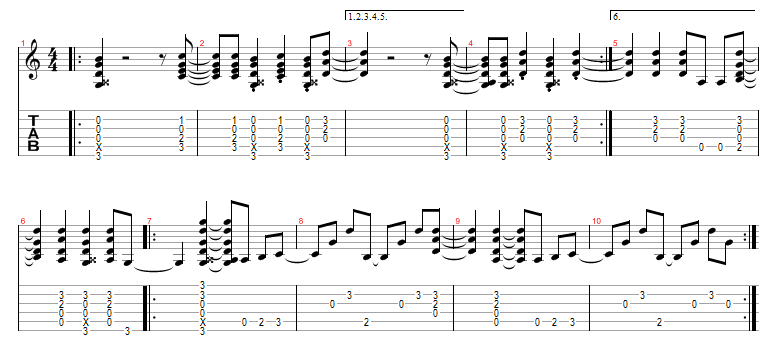 You can also check out this cool lesson on AC DC style!
Just about any song can be translated to acoustic guitar. It's a versatile, easy to carry around instrument that is perfect for someone who wants to play popular songs without having to spend many years learning how to play, but in the hands of a professional, it can be an impressive instrument capable of making beautiful, complex music.
If learning tons of songs, I recommend you to check out this great course: