Anybody wanting to learn to play guitar should expect to put in some practice time. Unless you're some kind of musical genius with a great ear, chances are you won't just pick up a guitar and start playing songs right away. That doesn't mean you need to spend years with a guitar teacher or studying to play. In fact, a beginner who takes the time to learn a few basic chords and some strumming techniques can play a lot of really easy songs in no time.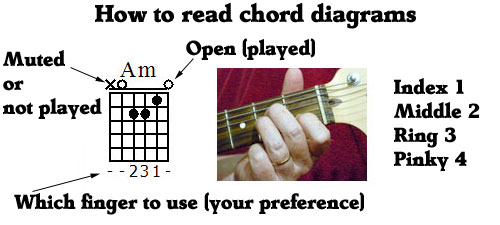 There are a lot of easy guitar songs to play in a variety of musical genres. Whether you want to learn your favorite rock, pop, or country, you can find easy arrangements online. Guitar tab websites offer lots of easy guitar songs to play on electric guitar and easy guitar songs to play on an acoustic, so whatever you're looking for, there's a good chance you'll be able to find it written down for you.
Easy rock songs
on the guitar include just about any
rock
or
metal
song you can play power chords to. Songs by Judas Priest, Poison, and classic bands like Black Sabbath, Deep Purple, and Steppenwolf fall into this category. Power chords are simple three-note chords that can be moved up and down the neck of the guitar to change chord names without having to change your fingering.
This is a power chord (also known as fifth chord) example in the style of the Scorpions, whose song "Rock You Like a Hurricane" is one of the easiest metal songs to play. Power ballads are typically easy guitar songs to play if all you want to do is strum and sing. Poison, Warrant, and Skid Row all have great power ballads that even a beginner can strum, and the cool thing is that almost anybody will recognize the songs. A good example is the song "Somethin' to Believe In" by Poison. Classic rock songs by the Eagles, Bob Seger, Jackson Browne, or Fleetwood Mac can also be found in easy guitar arrangements. The arrangement of "Night Moves" here is easy to play if you already know how to make the simple chords, and if you don't, this particular arrangement shows you how to make the chords. This is not only an easy guitar song to play, it's a fun one that just about anybody will recognize.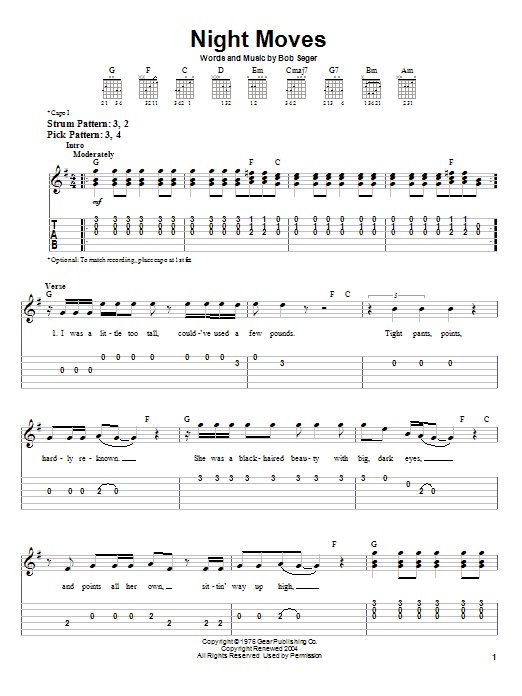 The best way to prepare yourself for playing easy arrangements of your favorite songs is to learn how to play basis chords. Essential chords for easy songs include major and minor chords in the first position of the guitar. Seventh chords are also pretty common. Just knowing how to make these chords, or at least how to read chord diagrams, allows you to play countless songs without spending a lifetime learning how to play guitar.