Hey there fellow acoustic guitar addicts
, Darrin Goodman
here with some more stuff to feed your guitar soul. Today I want to focus on the acoustic guitar a little bit and share some popular acoustic guitar songs with you. There are some certain songs that when played on the acoustic guitar that you just have to stop and listen, they just grab a hold of you. Now there are more like this than I could possibly go over in this article, but I will share some of the ones that really do it for me. These are not in any particular order by the way. Please comment your favorites too. One that I really like, but it actually was written and recorded on the piano, is
"Let it Be" by The Beatles
. I have heard many variations of this on acoustic guitar with strumming so I made a fingerstyle arrangement for it to try to get the feel of the piano.
Popular Acoustic Guitar Songs
"Hotel California" by The Eagles
is another one that stops me in my tracks. I love the chord progression and the sound that the 12 string gives it.
"More Than Words" by Extreme
is a great song. I really dig the rhythm and picking style of this song.
"Silent Lucidity" by Queensryche
is one of my all time favorites. I remember the first time hearing it while driving my car; I actually had to pull over.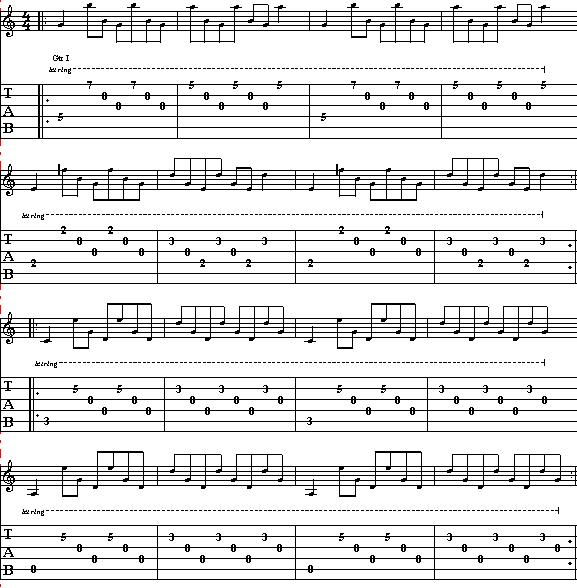 "Dust In The Wind" by Kansas
. I fell in love with this song years before I even picked up a guitar and dreamed of being able to play it someday.
"Teach Your Children" by Crosby, Stills,
Nash and Young. Nothing complicated about this song on the guitar, but it's just such a great tune with all the sweet vocal harmonies.
"She Talks To Angels" by The Black Crowes.
First time I heard this song I just had to learn to play it. I thought it was really difficult because I had no idea that they used an open tuning and I was trying to play it in standard tuning.
"Fire and Rain" by James Taylor
. James Taylor is the man when it comes to acoustic guitar. He is one of the best song writers of the 20
th
century in my opinion.
"Rhiannon" by Fleetwood Mac.
I just love Lindsey Buckingham's playing and the intro to this song gets me every time. This song was not originally acoustic, but that's how I enjoy playing it the best.

I could go on and on with this and I keep thinking of more I want to add as I write this, but there just isn't enough room. I hope you enjoyed this and got something from it. I'm going to go play my
acoustic guitar
now, Darrin