Hey peeps! What's up? CMC here and you know you've come to
the right place for our topic today: GUITAR INSTRUCTOR!
Although there exists countless guitar teaching sites online,
I'm confident that you're here at one of the best. Claude
Johnson and Matt Gallant head up the Guitar Control family;
they're both top notch and award winning pros who are also
excellent guitar instructors, just a click away right here.
And heck, I'm not chopped liver. While not the pro they are,
I'm learning myself and have been told that I have a gift for
teaching, so as I learn, you learn!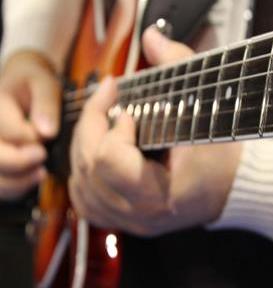 I've been playing since I was twelve and was paid the year I
picked it up. While I got distracted in my teen years and
never really made it big time, I picked up gobs of nifty info
on my decades long journey that I can pass on to you here. As
intro material and even maybe more, hopefully my articles
will be a first step for some who are looking for some
inspiration and direction. From here you can dive in and dig
on the heavyweights like Claude and Silvio.
If you are looking for free guitar lessons, we recommend you
to check out this blog by categories.
Check it out!
It's important to have the best person for the job. I mean
who wouldn't want Jimmy Page as their guitar instructor,
right? And if you just happened to be Bill Gates kid, maybe
Jimmy would actually show up at your house. On second
thought…maybe not. So for those of us who actually want to
learn and not just burn, you are in the right place at the
right time.
Guitar times have never been higher or better, either.
Guitars and guitar music are exploding all over the world in
most western nations. Guitar is second only to Piano as the
most popular and played instrument in the world. Born in 12th
century Europe in the Troubador age, guitars were turbo
charged in 1930's Great Depression America, by electricity.
That marriage-guitar and amplifier- was made in Heaven. Few
prefer electric piano to a Steinway Grand but millions of
guitarists prefer their Les Paul or Strat to an acoustic-even
their best acoustics.
So, that's it for today's mini-shot of musical-espresso. Wake
up, tune in, turn it on and let's get those fingers movin'!
See you next time, right here on GuitarControl.com. CMC here,
peace, out!
Free lessons are great, but the really juicy stuff is in our
courses in DVD. You can check out some of our best ones here: