One of the greatest slide guitar performances of all-time also happens on one of the most unappreciated and misappropriated songs of all-time: "Memo From Turner", a solo record by Mick Jagger, featuring the slide guitar by Ry Cooder, from the soundtrack of Performance (1970), in which Jagger played the leading role of Turner, a reclusive and troubled rock star. The movie is a bit shabby, but the soundtrack is actually not bad. "Memo" features some of the sweetest and archetypal slide guitar licks you will ever hear. Granted, there are plenty of great slide jams in existence, but "Memo" hits the spot in so many ways.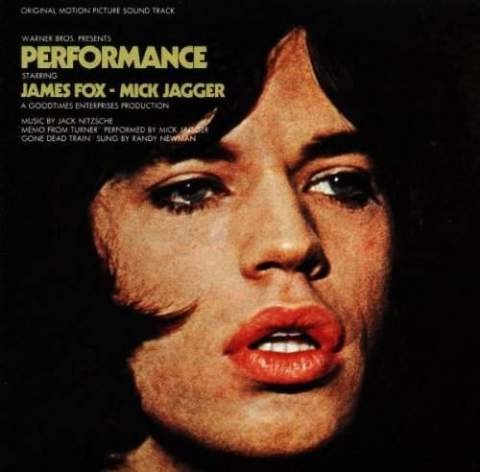 For a whole bunch of legitimate reasons, almost everybody in their right mind thinks of "Memo" as a Rolling Stones' jam, but there are actually Three Versions of the song – one by Stevie Winwood's Traffic, another recorded in 1968 by a loose assemblage of musicians which may or may not have resembled The Stones – and the third version of the song, typified by its slide guitar, which is the one we're concerned with.
Ry Cooder is a songwriter, film score composer, and record producer, he is best known for his slide guitar work, perhaps his collaborations with traditional musicians from many countries (Buena Vista Social Club, 1997). Despite a Penchant for Jimmy Buffet Aloha casual wear, Cooder was ranked #8 on Rolling Stone magazine's list of "The 100 Greatest Guitarists of All Time" (2003), and appears about every list of greatest guitar players. More to the point, "Memo from Turner" was ranked #92 in "The 100 Greatest Guitar Songs" list of Rolling Stone.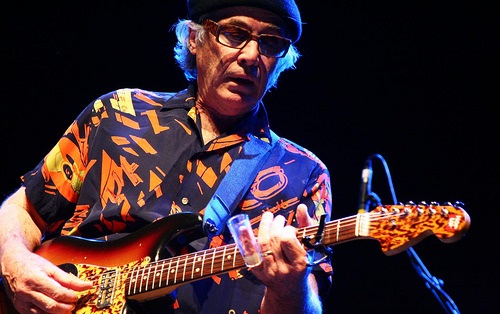 In order to play the slide licks in "Memo From Turner", honestly slide guitar in general, you need to play in an open tuning, in this case, Open E (E-B-E-G#-B-E). Theoretically, you could play "Memo" in any open tuning – I prefer Open G (D-G-D-G-B-D). You could also try fleshing out the lick in standard tuning, and I suspect that many of you will. But guitar players are notorious for making things harder on themselves than they need to be.
Check out this video lesson on SLIDE GUITAR
One thing to consider (and as you can see from the above photo of Cooder) when playing slide guitar licks is that every note isn't necessarily going to be a "slide" note, in fact many slide players do a lot of fretting behind the tube, so to speak. "Memo From Turner" is a great example of Cooder's effortless switch between playing slide and fretted notes. First, give the jam a listen; second, dial up the tab; and finally slip on your bottleneck and start sliding.
If you like blues and slide guitar, I recommend you to check out this course: ROCKIN THE BLUES