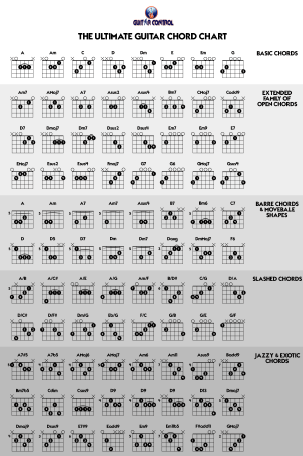 I wanted to give you pretty much all the chords you'll ever need to play (and none of the ones you don't) all on one page.
This chart is perfect for a quick, reference but doesn't really help if you want to learn guitar chords in greater detail.
So download and print out the chart below to help you along with your chord learning progress!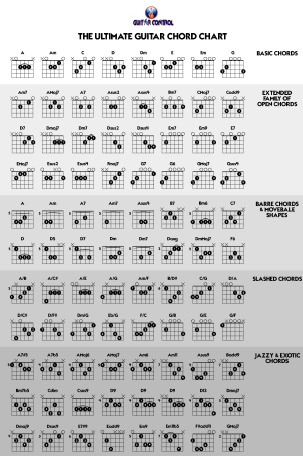 CLICK HERE TO DOWNLOAD THE CHART.
It has 5 sections:
1. Basic chords,
2. Extended family of open chords,
3. Barre chords & movable shapes
4. Slashed chords
5. Jazzy and exotic
Everything on one page!
You can have a look at it, download it, print it out, whatever you want.
Some of the more "fancy" chords you might wonder where or how you would use them in a real musical setting.
Actually, almost all are used in real songs in the Ultimate Guitar Song Collection (the exceptions are those common to jazz standards).
CLICK HERE FOR THE ULTIMATE GUITAR SONG COLLECTION
So while this may be the single "ultimate" chord chart with all the individual chords on one page, the ultimate is the "COLLECTION of Chord Charts", one for each song, showing you the exact progressions you need to play.
That's what you get inside the Ultimate Guitar Song Collection.
Actually you get 3 things. The chord charts, TABS (for those picking parts, riffs, single note lines, etc), and of course my friendly, easy to follow, step-by-step instructions.
The end result is you playing more songs, in less time, with more enjoyment, more progress, and less frustration.
It's a no brainer "must own" set: