Good day my guitar friends,
Darrin Goodman here from GuitarControl.com
with another cool little guitar lesson for you. This time I want to talk about Jazz Guitar Songs.
Jazz guitar
is a style that seems to cause a lot of confusion and frustration for beginner and advanced guitarists alike. Dave Mustaine was quoted saying,
"Once is a mistake, twice is jazz",
LOL. Jazz guitar is actually not as tough as you may think. With proper instruction that is easy to follow and understand you can start playing jazz right way.
A great method for learning jazz guitar
songs that you can do right from the comfort of your living room anytime you want is with the course
"Real Easy Jazz"
by
Clay Moore
. Clay is a veteran in the jazz scene and his course is one of the most comprehensive easy to follow courses that I have ever watched. This course teaches you everything you need to know to get started on jazz including;
jazz chord voicing's, jazz scales, and jazz arpeggios
and with the included ear training that Clay teaches you will be well on your way to becoming a jazz guitar master. You will learn many jazz guitar songs that are in
"The Real Book"
, which is referred to by jazz guitarists as the
"jazz bible".
Clay breaks each song down so you will have comprehensive understanding of the chords and there fingerings as well as the rhythm so you can get started with "comping" right away. Let me share a sample of one of the jazz standards that you will learn with this course.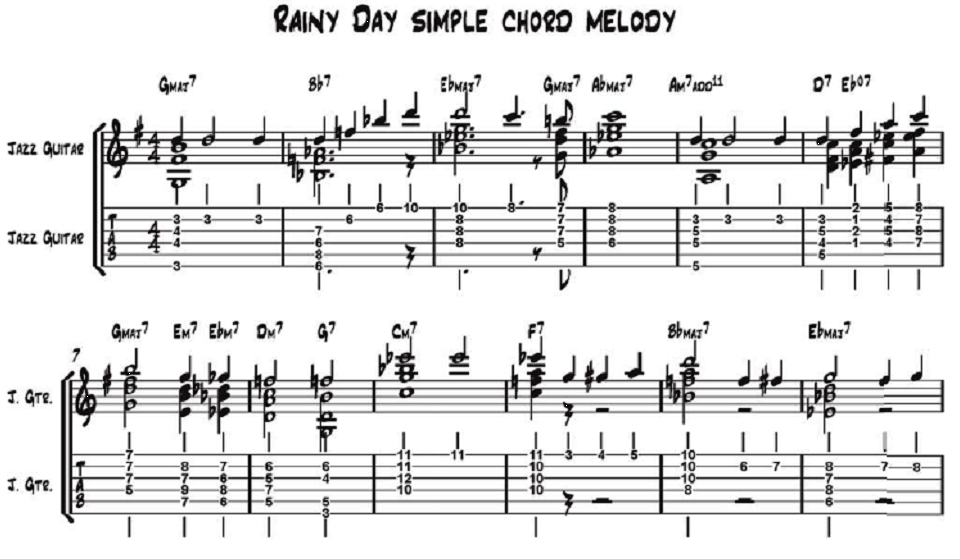 This is just a small sample of what you will get and learn with this awesome course. With all of the song transcriptions,
video tutorials, ear training and chord and scale
knowledge you get, you will see that's the best value in learning jazz guitar songs available. Here is the link so you can check it out for yourself.
https://www.realeasyjazz.com/main.php
I hope that you find this information helpful on your quest to learn so
killer jazz guitar.
Cio' Darrin