Nobody did heavy riffing like the classic metal bands of the 70's and 80's. If you like powerful riffs, you definitely want to check out these songs. And lucky for you, we included some tabs for them as well, so all you need to do is grab that sick guitar of yours and riff away.
"Stargazer" by Rainbow
This song opens with a sick drum solo, but then get ready to be blown away by a killer riff with a Middle-Eastern vibe. The riff was written by Ritchie Blackmore, King among guitarists. Don't just stop listening after the intro riff though; the vibe continues throughout the entire song and into the solo. For now, we're including the basic tab for the intro and verse, which is at a beginner-intermediate level.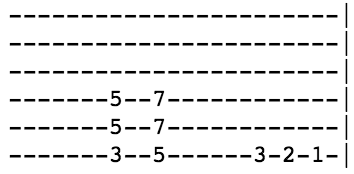 "Holy Diver" by Dio
After leaving Rainbow, Ronnie James Dio went on to form his own band. Dio, debuted his album and title track "Holy Diver." The album itself is full of great riffs, the one from the song "Holy Diver" is the most memorable, and heaviest. We're including the tab for it so you can play along.

"Bloodsucker" by Deep Purple
Like "Stargazer", Ritchie Blackmore is the guitarist behind the riff in "Bloodsucker", which has quite a cool vibe that continues throughout the entire song and fits perfectly with Ian Gillan's vocals. If you like this riff, you'll most likely enjoy the rest of the song and the four killer solos (half guitar, half keyboards). Here's the tab for the main riff.

"Into the Void" by Black Sabbath
Tony Iommi, is one of the sickest guitarists in metal history, he never stopped coming up with great riffs. "Into the Void" is an older Sabbath song with a slinky kind of riff. For the intro that's made even cooler with both the bass and guitar doubling up. We're including that line for you as well. Feel free to grab your bass-playing and rock out. Just be advised that, as for most Sabbath songs, "Into the Void" is tuned down one and a half steps.

It's hard to find cooler and heavier riffs than these, especially today. If you really want to be a riff master, you definitely need to listen to more songs by these four bands.
Two Neoclassical Guitar Licks
Neoclassical Metal
Diminished Chords
Neoclassical Metal it basically takes all the harmonic content from a classical piece, and turns it into a modern metal song.
Diminished chords is a very common neoclassical metal. 
The following example is a neoclassical inspired lick in a harmonic minor:


Know more about Neoclassical Guitar licks go to Neoclassical guitar licks | Guitar Control
If learning songs is your goal I recommend you to check out this great course:
Check out this free lesson from Guitar Control instructor Darrin Goodman on 3 killer drop D guitar riffs. Be sure to get the free tabs
Read More »
I want to share with you a very easy metal guitar tabs. Buckle up becauseyou are about to learn some crazy stuff. Metal is such
Read More »
In this Guitar Control lesson I want to share with you, two really great sounding neoclassical guitar licks. The first time I heard Yngwie Malmsteen,
Read More »