A guitar riff is a recognizable pattern of notes that typically forms the foundation of a song. The world of rock is made up of classic guitar riffs that have stood the test of time. Among them are such killer classics as "Smoke on the Water," "(I Can't Get No) Satisfaction, and "Layla," all of which are almost considered the epitome of classic guitar riffs.
Classic Guitar Riffs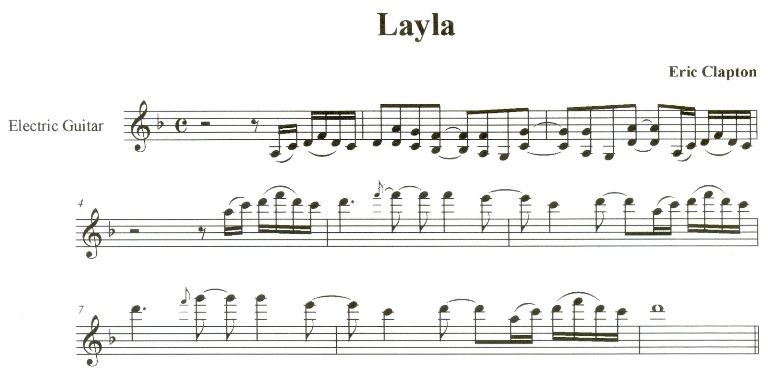 Those, of course, are just a couple of obvious examples of what a classic guitar riff should be. What about "Purple Haze," which is simple but immediately recognizable for what it is. Metallica's "Enter Sandman," "Sweet Child O Mine," and any number of Led Zeppelin tunes hit the mark as well.
Take a listen to "War Machine" by KISS. This probably hasn't been around long enough to rate as a classic guitar riff, but it certainly could be. Give it a listen and you'll hear those elements that make it a classic riff in the making.
AC/DC is a band that has created its share of classic guitar riffs. Think "Highway to Hell," "Back in Black," and the blistering opening of "TNT," cleverly offset by the shouts of "Oy" on the recording to punctuate the riff.
A riff, as I said earlier, is most often the foundation of a song. Many rock and roll classics have been written based on an off-handed catchy riff played during a rehearsal section. Riffs, then, can be thought of as building blocks. If you write songs on guitar, it's a good idea to record or somehow notate those riffs you capture in the heat of the moment. There's no real way to determine the riffs that have the potential of standing the test of time and becoming classic guitar riffs.
Check out this ZZ Top riff from the song "Tush." It can be argued that this riff is the song. Strip it away and you have nothing. When it was written, who could have guessed it would become one of the most recognizable songs in rock. Truth is, a lot of people recognize the riff without being able to even name the song. Don't tell that to ZZ Top fans, but it's a fact.




Think about the song "Money for Nothing" by Dire Straits. You almost get chills as that guitar riff comes blasting through your speakers, right?
There is no magic formula for classic guitar riffs, but we know them when we hear them. They are the part of the song, along with the chorus, that sticks in our heads and makes us tap our foot without thinking about it.