If you never listened to Eric Clapton's Unplugged album then you are missing out on some sweet guitar bliss. One of the most memorable moments is the acoustic version of Layla. Check out this free lesson from Guitar Control instructor Jon MacLennan on the Layla Guitar Solo From Eric Clapton Unplugged. With the step by step video instruction and the included tabs you will be rockin' this classic in record time.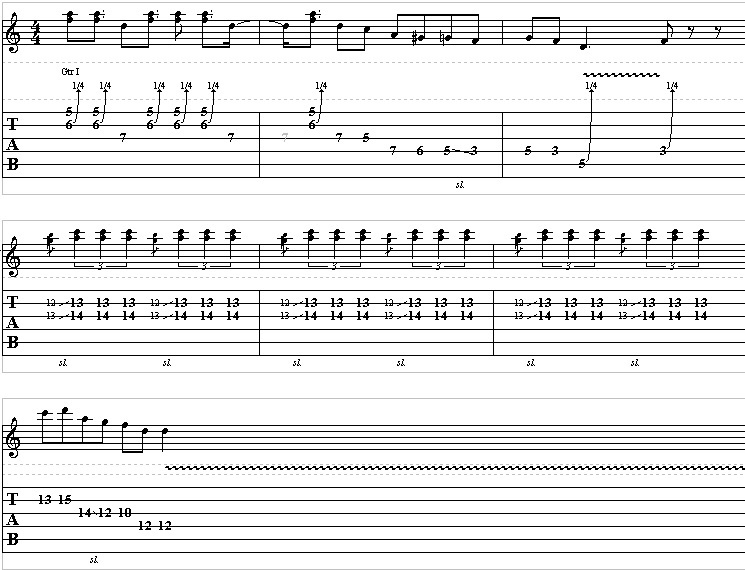 Introduction
How's it going? Hope you're doing fantastic. My name is Jon MacLennan and thanks for hanging out with me in my studio. Today want to show you an Eric Clapton guitar lesson. We're going to look at two phrases from the Layla unplugged recording; it's one of my favorite albums, the unplugged record. So let's zoom in and check out these licks.
Layla Guitar Solo
So the groove Clapton is playing over is basically in the key of D minor and what he does is he goes up here to the fifth and sixth fret on the first and second strings and he plays this classic blues motive where you play both strings together but you just slightly lift the second finger like this and then your third finger goes down here on the seventh fret third string and that basically is outlining a D minor triad. So that's the first phrase. Then he descends with this blues lick… what that is 7 to 5 chromatically on the fourth string 7 6 5 slide 2 3 5 3 5 3. So you're sitting there on that five, that root note, and then you just hit that last little third fret. So if I put those two together I get this…
The next phrase goes all the way up to the thirteenth and fourteenth fret, another classic blues phrase. What I love about this solo is how Clapton plays all his favorite blues licks against a D minor chord basically and it sounds great because you can play the blues against minor chords and major chords, you can play the blues everywhere.
So I've got the 13th fret and the 14th fret and I'm sliding into those, so that's the basic idea in triplets, then I go to one finger play 13 15 then play back to 14 on the 3rd string and slide down to 12.
Conclusion
Eric Clapton unplugged, I remember when I got that album for the first time. I got it at Amoeba records in Hollywood and it's an amazing record. I put it on repeat and learned every single song so I hope you check it out. Don't forget to subscribe and we'll see you in the next video lesson thanks for watching How To Layla Guitar Solo From Eric Clapton Unplugged.
GET Jon Maclennan's courses in the links below – GO!!! ➜